Have you noticed water leaking into your basement when it rains? One possible culprit could be your chimney. Chimney leaks can be a common problem, but they are also fixable. We've collected some helpful information and resources to help you address this issue in your home.
Identifying the Leak
The first step in addressing a chimney leak is identifying the source of the problem. Here are some signs that your chimney may be the culprit:
Water stains or discoloration on the ceiling or walls near the chimney
Damp or wet insulation in the attic space near the chimney
Puddles or dampness around the base of the chimney on the roof
Water dripping into the fireplace or stove when it rains
If you notice any of these signs, it's worth investigating your chimney further to determine if it's the cause of your leak.
Possible Causes of Chimney Leaks
There are several possible causes of chimney leaks, including:
Cracked or deteriorating chimney crown
Mortar and brick damage
Missing or damaged chimney cap
Improperly sealed flashing around the chimney
Condensation on the inside of the chimney flue
Determining the cause of your particular chimney leak will help you address the problem more effectively.
Finding a Professional
While there are many DIY tutorials available online, it's often best to hire a professional to fix a chimney leak. A chimney sweep or roofing contractor can help you diagnose the problem and suggest the best solutions. When searching for a professional, be sure to look for one with experience in fixing chimney leaks specifically.
The Repair Process
The actual repair process will vary depending on the cause of your chimney leak. Here are some possible steps a professional may take:
Inspecting the chimney and roof for damage
Repairing, replacing, or sealing the chimney crown
Repointing damaged mortar and bricks
Installing a new chimney cap
Sealing the flashing around the chimney with caulk or other materials
Installing a chimney liner to address condensation issues
The cost of chimney leak repairs will depend on the extent of the damage and the specific repairs needed. It's important to get multiple quotes from different professionals before choosing a contractor to ensure you're getting a fair price.
Maintenance to Prevent Future Leaks
While some chimney leaks are caused by unforeseeable circumstances like severe weather or aging materials, there are several steps you can take to prevent future leaks:
Regularly inspecting your roof and chimney for damage
Keeping your chimney free of debris like leaves and branches
Repairing any damage promptly, before it becomes a larger issue
Keeping your chimney well-ventilated to prevent condensation buildup
By taking these steps, you can help minimize the risk of future chimney leaks and keep your home safe and dry.
Conclusion
Chimney leaks can be a frustrating and messy problem, but they are also solvable. By identifying the cause of the leak, hiring a professional, and taking steps to prevent future damage, you can help ensure that your chimney stays in good condition for years to come.
Image Sources:
Chimney Leaking – Building & Construction – DIY Chatroom Home
This image shows a chimney that is leaking through a roof and into a home.
Chimney Leaking Water Into The Basement? (We Have A Fix!) – Upgraded Home
This image shows a chimney on a roof in the rain, with water visibly leaking into the basement of a home.
Chimney and Fireplace Leak in Heavy Rain (& Repair Cost Quotes)
This image shows a close-up of a damaged chimney, with missing bricks and signs of water damage.
Chimney cleanout full of water. Basement leaking – Home
This image shows a chimney cleanout that is full of water, which is causing the basement of the home to leak.
Water Leaking Around Gas Pipe In Basement | Openbasement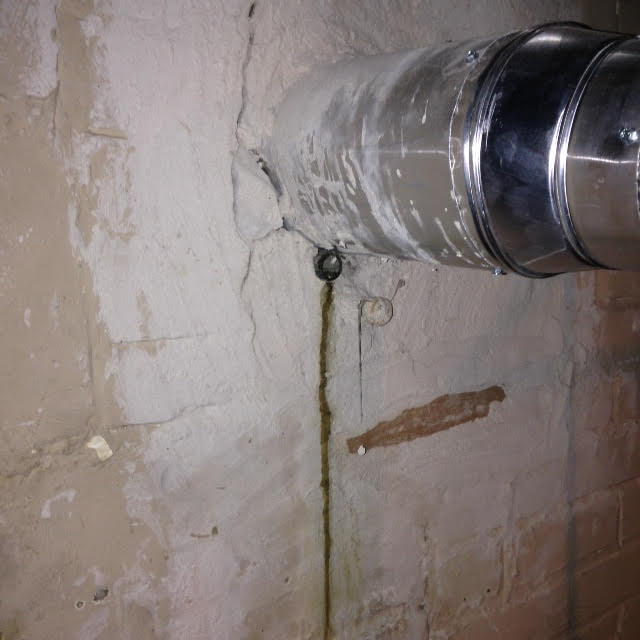 This image shows a water leak around a gas pipe in a basement, which could be caused by a variety of issues including a damaged chimney.
Rekomendasi artikel lainnya tentang Chimney Leaking Water Into Basement